Although young in terms of the nation-state and small in size, Jordan is blessed with spectacular scenery, historical treasures, and hospitable people. It has a good tourist infrastructure, delicious cuisine with knowledgeable guides and some great accommodations. Jordan has bucked the trends of its neighbors throughout its short history as it welcomes travelers with open arms.
Amman is a liberal, lively city, modern in character yet has one foot firmly rooted in the past. Its journey travels through the Romans and Greek with a history dating back to Neolithic times. It carries an air of dynamic self-assurance today and is a great place to hang out. Things not to miss while you are here include the Temple of Hercules, the Roman theatre, fruit and vegetable market, and the downtown area.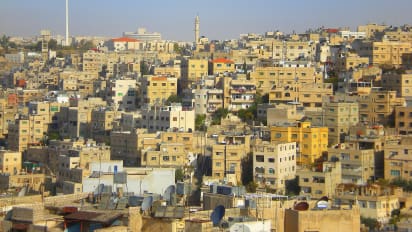 Jerash is Jordan's most famous Roman town and is a great place to take a day trip. You will still find Neolithic and Palaeolithic settlements here as the town came to prominence in the 1st century. Make sure you visit the South Theatre and the Temple of Zeus while you are here. Traveling south you will pass Mount Nebo. It was here Moses showed the Israelites the Promised Land.
Jordan is not just about sites of antiquity, there are also some natural wonders you can discover. You can go to the Dead Sea for a float by heading east of Madaba. You can also treat yourself to a spa or cover yourself in the rejuvenating mud. There are also remote villages you can explore like Dana. This tiny village was recently reinvented as an eco-friendly village, making it great for those looking for a reserve to explore.
Covering about 250 sq km, Petra is truly one of the wonders of the world. This former capital of the Nabateans is simply astounding. The pink rock carved into façades showcasing the noble family's tombs and temples divided by mighty gorges and canyons will definitely leave you speechless. The Treasury is the most impressive of all the Petra sites. This is likely the most majestic desert landscapes you will witness. It is a place where huge vistas ride out under immense desert skies. This is also a great place to spend the night either sleeping wild in one of the impressive camps or under the stars.
Wadi Rum is a dramatic city that has been used as a location in several famous movies Aqaba is a Red Sea Town right in the south. Apart from being a beach resort for locals and an important port, it has a special place in history.
With plenty of great diving in the Red Sea, horse riding holidays to experience, and good walks to be had, Jordan has a lot of activities you can enjoy.